3D Virtual Exhibitions
Our 3D virtual exhibitions increase accessibility for our audience to engage safely online and increase exposure for our artists and their work to a wider audience.

You will find a list of the 3D virtual exhibitions we have available below.
Instructions for exhibitions:
When inside the virtual exhibition, click anywhere on the screen to move in that direction. Circles on the ground indicate where you can move to. Click on these circles to move to that point.
The small green circles provide information on the artwork it's located next to. When you click these circles you will get a preview of the artwork details. Click it again to view an enlarged image of the artwork and full details including title, size, price, and description. Click the small triangle in the top right hand corner of the window to hide the details and see a full view of the artwork.
The small yellow circles provide information about the artist. If a video is included you may need to click on it if it doesn't start automatically.
For any enquiries or feedback on your experience with our 3D virtual exhibitions please get in touch - info@thegoodthebad.gallery
Preloved Project
Serena Stevenson in partnership with Fresh Concept
23 July - 13 August 2022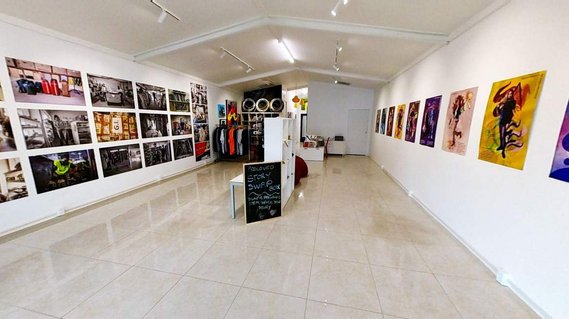 toe feiloa'i / meet again
Andy Leleisi'uao, Raymond Sagapolutele, Ruta Tugia, Salome Tanuvasa, Sean Hill, and Our Little Market NZ.
01 - 18 June 2022
You Are Not Alone
Lucy Goodman, John Dempsey, Hana Carpenter, Viddyz, Matt Connolly, Jasmine Hope.
07 - 26 May 2022

Estuarine: Tāmaki Makaurau
Penny Otto and Marion Gordon-Flower
08 - 18 December 2021
No longer available.